Scrambling Rack
Scrambling cover a huge range off terrain from steep walking to easy climbing, so at times the use of a rope to protect you or others in your party is a good idea.

Scrambling grade vary a little from area to area, but generally :
· Grade 1 = A steep walk, hands may be needed for balance.


· Grade 2 = Some tricky sections where the use of a rope to protect the leader or belay a second may be required.


· Grade 3 = An easy rock climb with sections of pitched climbing with leader placed protection, or a bold solo in good conditions.

Selecting a rope has the same issues as selecting a rack, short is lighter and easier to manage, long gives you more options in ascent as well as easier retreat if things don't go to plan. Your selection will depend on your route choice and escape plan, but I find a 30m skinny single to be suitable most of the time.
If we think about our rack choice in the same way then more gear = more options, but more weight, bulk and faff too. You need to find a balance that works for you and have "just enough" gear to stay safe and enjoy the day.
A good starting place would be:
· 3 x 120cm slings with screwgates (for spike runners and belays)
· ½ set of nuts (2,4,6,8,10). Nuts have a larger range if used on their side, you wont be placing more than 3-4 runners anyway. Don't forget a nut key for getting them out again.
· 3 x hexes or cams for larger cracks. I prefer hexes.
· 4 x quickdraws for extending runners. I take one normal one (18cm) and 3 alpine style made with a 60cm sling and 2 snapgates as these are the most versatile.
· For belaying either a HMS carabiner or belay device, or both.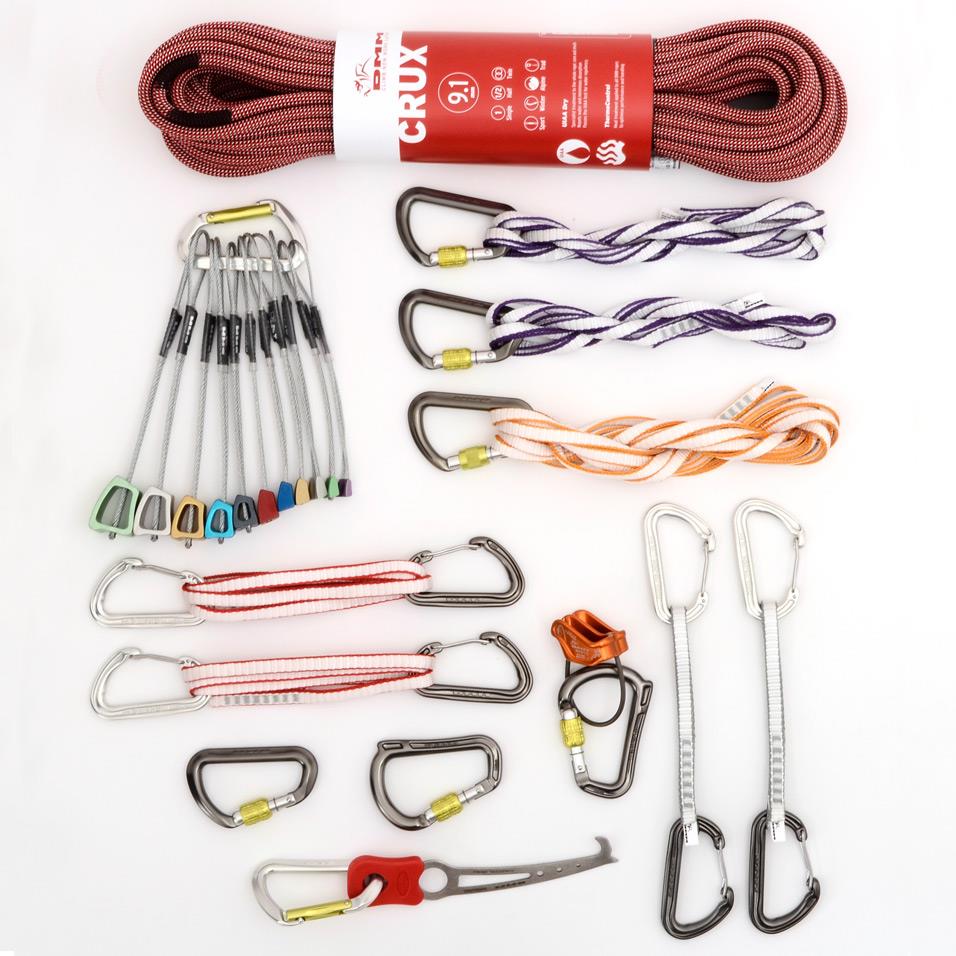 If you're planning to use a rope then you should be planning to use a harness and a helmet too. A simple harness like the DMM Alpine works just fine for this terrain.
Don't forget that if you're heading into the mountains then make sure you have good footwear, mountain layers, spare food and emergency bits like a small 1st aid kit and survival bag.
DMM have a "Scramble Pack" available that includes everything I've mentioned including the rope, this and any other kit you need can be purchased at Up & Under using the discount you get after coming on a course with me.
If you're ever not sure what you need or how to use it then get in touch, ask the question or book onto a skills course and get the knowledge.
Now get out there and get adventuring!